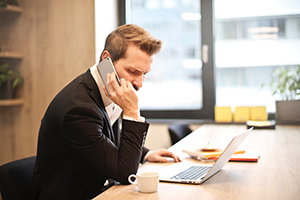 IMPORTANT LAW UPDATE FOR ALL EMPLOYERS
IN NEW YORK STATE
New York Governor Andrew Cuomo has signed a bill prohibiting employers from threatening to contact an immigration enforcement agency on an employee.

The law goes into effect on October 2019.

Under the law, an employer may not report or threaten to report the suspected citizenship or immigration status of an employee, a family member of an employee, or a household member of an employee to a federal, state, or local agency.

The above behaviors are considered discrimination and retaliation and thus workplace harassment.

The consequences of violating this new law include, but are not limited to:
* Fines in the amounts of:
**$1,000-$10,000 for a first offense; and
**$1,000-$20,000 for a second offense within six months of the first violation.
* All appropriate relief deemed justified by the Commissioner of Labor, including, but not limited to:
* Financial damages to the affected employee;
* Rehiring/Reinstating the employee to his/her former/equivalent position; and
* Awarding the affected employee lost compensation or front pay instead of reinstatement.

---
Authored by: Bill Elkins
© 2019 by Franklin, Ginger & Cohen, P.C.
Used with permission by the Author.
© 2019 KVLSM LLP - CERTIFIED PUBLIC ACCOUNTANTS AND ADVISORS - NEW YORK

This e-mail and any attachments are intended exclusively for the individual or entity to which it is addressed. It may be confidential or legally privileged. If you received this
message in error or are not the intended recipient, you should destroy the e-mail message and any attachments or copies, and you are prohibited from retaining,
distributing, disclosing or using any information contained herein. Please inform us of the erroneous delivery by return e-mail. Thank you for your cooperation.