Required New York City Mass Transit Benefits
According to new local law, all New York City businesses with 20 or more full-time employees (30+ hours per week) must now offer mass transit benefits by January 1, 2016. Also known as Section 132, mass transit benefits allow employees to set aside pre-tax dollars each month to use toward public transit, parking, vanpool and bicycling. The deadline for businesses to set up new Section 132 plans for the New Year is November 15, 2015. Please contact your Human Resources Department or payroll advisor regarding compliance.

Additional Year-End Tax Planning Considerations
Due to uncertainty about expired tax breaks, this year's tax planning is sure to be just as complicated as last year, with individuals and businesses unsure of whether tax breaks will still apply at the end of 2015. Tax legislation signed into law last December extended several expired tax breaks, but only through the end of 2014. While Congress discusses potential legislation to extend or make permanent some expired tax provisions, it's difficult to predict what will ultimately be signed into law. Some year-end tax planning strategies cannot be utilized until after Congress' final bill is established, so there are still many solid strategies to consider now.
click here for more information.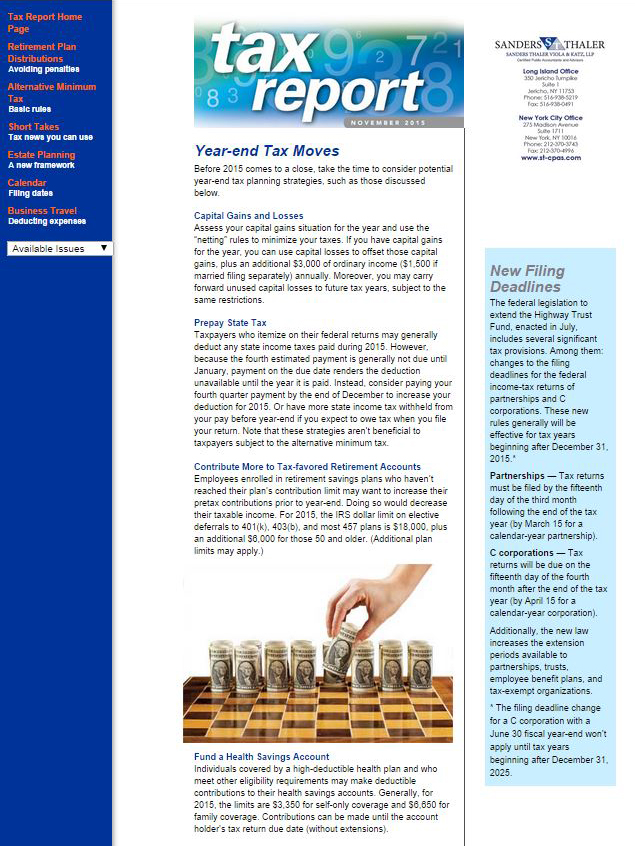 Click on one of the following for additional updated information:
• October 2015 Firm Newsletter
• October 2015 S.A.L.T Newsletter

To learn more about Sanders Thaler Viola & Katz, LLP, visit www.st-cpas.com.